Ignite your ideas with Swae's AI
& collaborate with colleagues like never before
Start working on your dream proposal using Swae's AI and collaborate with your colleagues to shine a light on your organisation's next big success.
The magic starts here…
After logging into Swae the world is your oyster- check the status of your game-changing proposals, add a new one, or collaborate and vote on your colleague's proposals.
Works everywhere you do
Sometimes the best ideas come to you in the strangest of places. Swae has your back so you can add proposals on your phone, tablet, desktop or laptop. 
Guided proposal creation
Add your proposal in a structured, straightforward, and logical way. The Swae proposal generator helps you articulate with clarity, so other people get the important details in moments.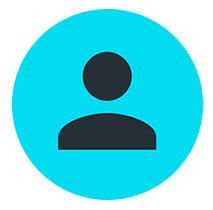 Anonymity brings freedom
Sometimes, the future can be controversial or unpopular, so people play it safe and game-changing ideas never get proposed.
Swae solves that by letting you add a proposal anonymously*. 
Add co-creators
Great ideas arn't just made alone. Swae lets you invite colleagues you already know, and also request expertise from others in your organisation.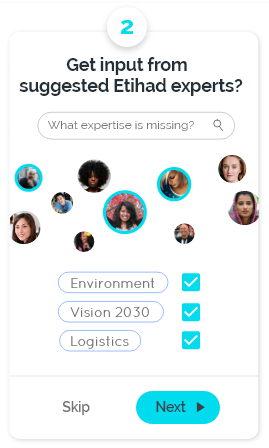 Next… turn ideas into workable strategy
Once your idea is in the system that's the hard part done, next is where the magic really starts to happen. 
Grow your proposal using Swae's AmplifAI
Swae's proprietary AI measures Readability, Political Sensitivity, Positivity, and Bias to help gauge the fairness of your proposal.
It also helps find relevant evidence and citations to add weight and feasibility to your proposal.
It also helps with language augmentation, logic, structure re-framing and improving the overall clarity of your idea. 
It all means your proposal is better for you, better for your organisation, and 2-3x more likely to graduate and be implemented.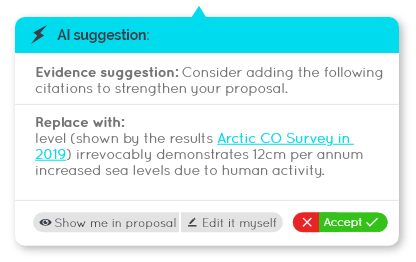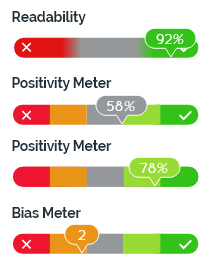 Discover the next…
Check the Collaboration feed for ideas to get involved with. 
Filter proposals depedning on rating, trending, poularity etc. 
Bookmark ideas for later
Read succinct AI generated summaries
Collaborate
Once your proposal is live, any of your colleagues can offer some helpful suggestions to help bring their extra breadth of knowledge.
data or information
evidence
citations
references / links
previous learnings
policy restrictions/opportunities  
Wisdom of the crowd
Crowdsource expertise and substance to proposals
Point out flaws and risks
Improve the content
De-risk the idea
Engagement acts as signals for determining an idea's merit.
Earn reputation and expertise
Show your love for the best suggestions and comments by upvoting them, highlighting your colleagues who deserve the reputation.
Shine a light on insightful comments with the 'bulb' emoji helping surface the comments that matter.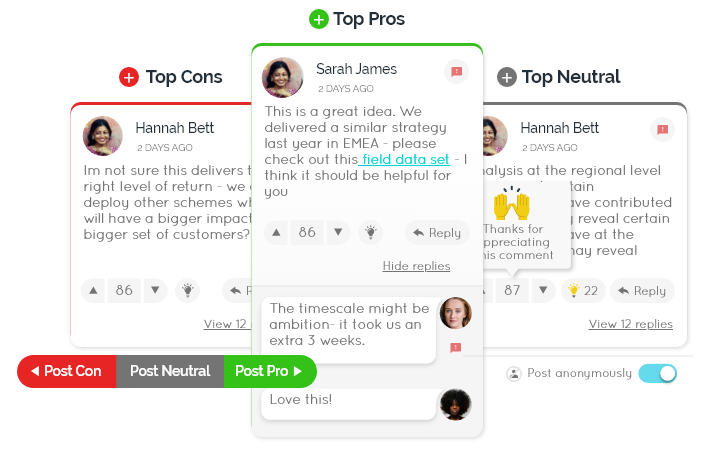 Join the discussion
Having a healthy debate is central to growing an idea- many heads is better than one! Post comments in support (pro) or against (con) or keep a neutral stance.  
Showing your appreciation helps the best comments rise to the top, while downvoting lets people know comments that arn't helpful in pushing the proposal forward.
Diversity makes magic
It also helps your colleagues gain reputation, and helps Swae determine the diversity of the proposal. The science shows that diversity can help bring organisation success.
Vote in seconds
Vote in seconds, and with Swae's rating system, gain greater levels of opinion to help filter the best.
Make your  opinion heard 
After logging into Swae the world is your oyster- add your game-changing proposal, or collaborate/vote on your colleague's proposals.
Find, collaborate & vote on proposals that mean something to you
Uncover proposals that are important to you so you can get involved or help vote them through to the next phase. 
Voting only takes a second and can make a real difference to the future of your company. 
The result:
Game changing ideas
Swae generates smarter strategy, that takes everyone's point of view into account. Its sense checked by your team, and improved by AI, so it's ready to be implemented and help your organisation achieve its goals. 
You're in good company
Join more than 30,000 people already using Swae
* Proposals submitted anonymously have their creator revealed once graduated, so you can revel in your glory.