Decision making is broken, and Swae aims to use AI & Collective Intelligence to build the future.
At Swae, our team are convinced we are at an evolutionary inflection point about our acceptance of the current social contract and how we organize society.
We believe the future will be one where distributed decision-making, decentralization and self-management through the support of AI and other exponential technologies are the norm.
We are passionate about the future of governance and organizational innovation.
How Swae began
Swae is here to build the future
Swae was originally developed by a team of researchers from the fields of political science, philosophy, engineering, behavioural economics, law, cryptography, and organizational change who came together out of a shared frustration and conviction that our model for decision-making in most organizations is unfit for our times.
They began working together in 2016 to upgrade how cities made policy decisions, leveraging citizen input and meritocratic protocols in order to create more intelligent, inclusive, and higher quality decisions about public resources and urban policy.
Over time, the system they have built is general enough to be applicable to fundamentally improving overly centralized, top-down and outdated hierarchical process for decision-making in other domains and organizational settings, particularly in private companies, digital organizations, representative boards, and cooperatives (to name a few).
Swae intends to upgrade decision-making first in companies, communities, and cities, and then implement within governmental frameworks to bring more trust, accountability and transparency and allow more inclusivity for citizens to be involved in solving the world's most challenging problems.
Founder's Story
We believe in an inclusive future
Soushiant (Swae's CEO) saw the need for Swae as a result of his experiences working in senior management roles inside small and large organizations. During his experiences, he witnessed several occasions where poorly designed, non-meritocratic and politically motivated decision-making processes lead to poor decision quality and poor organizational performance.
He felt strongly that these processes and their end outcomes were a disservice to the organizations potential and the available but untapped collective intelligence that resided within them.
While researching the problem and prototyping potential solutions, he began to see parallels between decision making inside companies and the state and quality of decision-making in democratic institutions, in the public sector.
I'm keen to hear every idea on how we can make Swae inclusive for everyone- please connect with us to help create the future. 
I'm a strong believer that future organizations will be distributed in decision-making, more decentralized and even operate through self-management. Swae is going to support them with AI and other exponential technologies.
Our timeline
The journey so far…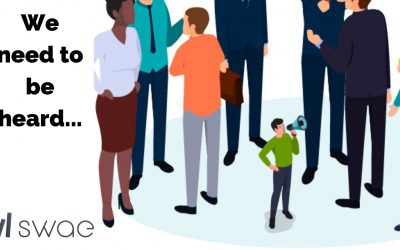 After assessing the various programs offered to companies affected by COVID-19, our research has found that most companies are unable to benefit from a variety of relief programs offered by the government.