The $1Million Drop
Talking all things DAO, Decentralization and Grant Funding on Swae
Transcript:
00:01 Hello everyone and welcome Go Space. In this conversation Jan, VP product at singularity net and the founders we'll be discussing what we learned over the first round of different, so far, an initiative with up to 1 million worth of HX tokens reserve for the development of AI services.
00:27 Now, the funding, as you very well know, Singularity Nets funding program to support the development of AI services and uses Sway as a platform for uniting a decentralization.
00:38 And now I would like to invite a solution to take it if I'm here and enjoy the conversation with ya.
00:46 Thanks, Mihai. I hope I'm saying and pronouncing your name correctly. I've been, my name's been butchered so many times over the years.
00:55 I feel like I have a little bit of latitude to screw up other people's names, But thanks for the thanks for intro and the context.
01:05 Jan and I were, were discussing this for a few weeks now. And generally we, we've been wanting to do more of these kinds of open conversations so people can appreciate the back story, how these partnerships came together and what the impact and, and results really have been from, from our side.
01:26 So this conversation is both about the experiment the defunding, you know, launch on Sway from a few months ago, as well as broader topics related to d modification of these types of projects and these types of projects.
01:43 And, you know, the challenges of dows or the promise of Dows where we are relative to where we want to be.
01:51 I have a number of kind of conceptual questions that I, that I wanted to ask Dan, but yeah, let's start first, you know, before Singularity next.
02:00 What, you know, what were you doing? What, what sort of made you come, made you into this crazy space, Into this crazy space?
02:09 I was actually working at a consultancy agency working on digital transformation and e-commerce, e-business, I should say. And I remember that at some point I got a little bit bored and needed something new to sink my teeth in, basically.
02:30 And it was in 2017. And then I found out about the crypto space, and I started and that was the bull run at that time.
02:40 So it wasn't that original, I must say. But I found out this huge ecosystem of a lot of things that were going on.
02:48 And of course, like everybody you first saw with Bitcoin, but then you see all these other tokens, and then you get amazed by the richness of that ecosystem and, and everything that happens.
03:01 And it's, of course, it's a lot of money things, but it's also about technology and ideas and idealism to a certain extent.
03:12 Everything combined. And yeah, I thought it was fascinating. And I, I dove in, I read up, I absorbed as much as I could, and then at some point it gets too much.
03:26 You can't absorb everything. You can't keep track of everything. So then I started filtering down again removing things both from my portfolio and for my mind, I think filtering down to, to the projects that I loved most.
03:44 And at the end of that filter, there was one project that I was really in love with that ticked all the boxes.
03:50 And that was and still is similarity net. Before I ask you why, I wanna know, what were the few tenants or few pillars that really captivated your attention to pull you into the space beyond the money and, and hype?
04:08 No, it was just the money . Sure. No, just kidding. Just kidding. Yeah, it was, it, it's a movement, right?
04:22 So this talk is about decentralization and taking power away from central institutions and doing things in a combined and concerted way with building revolutionary disruptive stuff in so many different spaces, and collaborating with people all over the world, seeing that happening.
04:50 I think that was, that was really amazing. I remember the first time that, well, not clearly remember, but I remember the first time that I made my first comment in the Telegram group of Singularity Nets.
05:05 And I think my cheeks must have been a little bit red by then and from excitement. And because you're, yeah.
05:13 You, you, you feel inadequate. And, and, and it, it's such a thriving community also back then. And but then it gets easier and easier.
05:22 And then I remember the first time I got a reaction on a comment from Ben, and then I jumped into the air answering my, or reacting to my post, What a great world this is.
05:35 And actually, that is quite amazing. Without this technology and these platforms, I would never have been in touch with somebody like Ben Gerel on, on that way.
05:49 So, yeah. Now I didn't, didn't think about that beforehand, but now you mention it, that is what the space makes makes possible these kind of connections.
06:00 And, and I, I think we don't give it enough attention on a daily basis. I mean, even things like Slack and Twitter, and I'm speaking all day with, with people on the other end of the world, my, my colleagues, that is amazing.
06:14 But doing the same with not colleagues, but people in the community that are just anti enthusiastic about the projects and also being a participant in a community.
06:25 Yeah. Co-conspirator as we call them, right? You just interrupt me if I'm talking through law. No, No, no, no. I, I will.
06:33 Yeah. We'll, we'll move it in, in the right directions. But the, the context is, the personal stories are always what makes these spaces useful, right?
06:44 We can hear bios and all that stuff online, but we all, we all wanna know like, what inspired you? What, what keeps you up?
06:51 What, what gives you hope when, when things are not going so well. Talking about Rosie Cheeks, I, I had my rosy cheek ben moment as well at the beginning of our partnership.
07:04 I knew of Ben from my time at Singularity University. He was, his project was one of the first and only that was trying to combine robotics and AI together to unleash this sort of world of abundance of how these, these things can be of use to, to humanity.
07:23 And so and those were the ICO days, you know, where people were pump and dumping all these crazy projects and, and, you know, Singularity Net seemed to be have some legs around it, had some true true not get rich scheme vibes about it.
07:42 And I remember when we first started our partnership, Ben had tweeted about the, his experience using Sway and the prospect of using Sway.
07:51 And I was like, Man, this is so cool. Like, you know, someone like him, you know, lending his voice and credibility to a small startup like us, like it means a lot, you know?
08:04 Yeah. Yeah. That, that's what the space is all about. And, and yeah, what what attracted me to Singularity in that, by the way, is that triangle of things like blockchain.
08:12 That was my initial thing, but blockchain and AI combined, that's wonderful. But what also was a very important ingredient, what you are touching upon right now as well, is the purpose of creating benevolent ai.
08:28 And the authentically authenticity that I, that I found in that organization, personalized by Ben, but also in, in Singularity Nets Foundation, is what, what really attracted me.
08:42 And looking back, but also thinking about one and a half years ago, how amazing is it that in 2017, I got in, I, I looked at all the organizations that I, that I liked in the ecosystem.
08:58 I singled out one of them, I started following them as a complete newbie, as somebody from another ecosystem, another business line.
09:06 Basically, I got in touch and I got into that conversation with people in the ecosystem and got more and more enticed.
09:14 And then now I'm personally working in that organization. Yeah, that wouldn't have been possible without all that social media and all these interactions going on.
09:28 So, yeah, I think I am per personally the living evidence of how these things can work. Yeah. That's amazing. Now, so fast forward a bit, you, you've been at singular net for a couple of years now, correct?
09:46 Well, one and a half, one and a half, two years, something like that. Okay. Coming to two years. And this, the concept of the grant funding tell us where that came from and what the intentions were behind it.
10:03 Big funding, De funding. Yeah. Yeah. Well, it started out with our phase two proposal where we had the, had the proposal.
10:13 I say we, but at that moment, I was still just a community member. Well, you can forget about adjustment a community member.
10:25 And there was a proposal to mint billion new tokens on on singularity nets. And 30% of those tokens were allocated to deep funding.
10:36 And the purpose behind that wash is that that way we can seed our platform with new and exciting services, or we can support solutions that use services that are already on our platform.
10:55 And by that way using that to, to, to seed and to bring growth to our platform. So that is the reason that is the reason and the purpose behind deep funding and the, the proposal itself was put out for a vote.
11:15 So this was really a huge thing, really a huge thing for the organization. And the community could have said no, and then our trajectory would've been completely different than it is today.
11:31 So that was, had massive impact on the organization. And then of course, that 30% is allocated to the funding. But also there, the idea is, and, and, and the promise is that it will be a community governance program.
11:49 So it's the community that decides which of the proposals that are being submitted will be funded to be developed and, and, and, and onboarded on our platform.
12:02 So the community has a big say, big say, Yeah, the direction that our platform will take by choosing the right proposals.
12:14 Now, a lot of projects I've seen pay lip service to the impact of the community on the strategic direction of the organization.
12:23 And this case it seems to be the opposite. Even, even just a couple of days ago, or even today during our Twitter space, I believe there's another experiment around governance voting that's, that's coming to a close that is also sort of been very much driven by community response.
12:43 Tell us why, you know, why you guys take the community so seriously. . Yeah, that's almost too obvious but I can say a few things about it.
12:58 First of all actually, the timing of this interview is perfect because as of today, our community can start voting on that governance experiments that you were referring to on our voting portal@voting.deepfunding.ai.
13:18 So if you're a community member, you're listening, please go there. We have two questions based on improvements for round two of deep funding that we would love to have your opinion on.
13:33 So to, to give a little, just a little bit more context on, on that experiment, if you don't mind, Sohan.
13:41 We started a conversation with our community four weeks ago asking them to submit any proposal on what they would like to have to see different in round two of deep funding.
13:53 So yes, we, we do give say to our community and how deep funding is being developed. I can probably tell Health Nara about that.
14:05 And I think that's maybe not the main purpose of this, of this interview but we can come back to it later if you want to, to have some more feedback on why that is a is an experiment and what we're trying to achieve.
14:18 Yeah. But back to, Yeah, I, I was coming back to the point why is our community important Perfect. Yeah. For us, First of all, Well, I, I, I think the, the, the secret is in, in our purpose, we want to make art, we, we think artificial intelligence is the most important invention that humanity will make be.
14:45 Because if artificial general intelligence of artificial super intelligence is intelligent enough and it'll become more intelligence than humans, then basically there's nothing it can, it's, it can't do anymore that we can.
15:02 And that, that is the, the basic idea, right? You could say it's the last invention that we need to make.
15:08 So it's important, and it's too important to leave with a good conscience to a single entity, whether that's a country, whether that's an organization or something else, even if they are benevolent in itself, even if it's singularity net as a matter of fact.
15:31 So even though we think of ourselves as, as being justified morally right, having the best intentions for the world we won't always be there, and we may be wrong at times.
15:44 So we believe in the voice of the, of the community of the bigger, we want to make that AI accessible to everybody.
15:54 And we believe that with the more voices we will get into our platform, and the more differentiation that will be in our platform, the smaller the chances are that that AI will deviate and go in a direction that is not benevolent to, to humanity.
16:16 So, yeah, I think it's a matter of life and death, I would say to have community involvement in, in something that is so important as the development of ai.
16:29 And I think you see that nowhere, nowhere all organizations and countries are working on AI in some fashion. Yeah. But it's always siloed.
16:40 And all too often the objection is the objective is military equipment, selling ads, getting people hooked to whatever. And that is just playing wrong, but also very dangerous.
16:56 So I, yeah. The, the reason I think I'm touching on this, the, these dynamics improving on community is, is because I wanna move the conversation towards the Dow and the sort of progressive decentralization of, of singularity net.
17:15 Tell us a little bit more about, about that where you are relative to, to that, and what does progressive decentralization mean to, to you guys?
17:29 Well, we do have a commitment to make ourselves completely decentralized in a sense that the the organization and the platform and development of Ben AI can continue without any of us that are currently in the foundation being there at the steering wheel.
17:58 That's the goal. The other part of that is this is not something that can be done overnight, and you also have to be cautious about it.
18:09 So the progressive part is that also in deep funding, even though we put some questions to the community with, with, and, and we are serious about that I also take it one step at a time.
18:23 That's also why this current initiative is called an experiment. We are learning, I think learning is hugely important. I don't have all the answers.
18:33 I know that I don't have all the answers. I think there are dangers and risk in decentralization. You can see that in politics around the world that even if you are decentralized or you have what you could call a democratic system, it doesn't mean that there are no risks involved and that it isn't possible that certain parties can take over, maybe even on false basis.
19:07 So I think we have to be careful. We, we want to let go of the steering wheel, so to speak, but we do it one step at a time.
19:20 And, and I think my main guideline here is that I would like to avoid us getting into a dead end street where we cannot get out of anymore.
19:32 So if I want to develop processes and tools for progressive decentralizations, my model will be developed for flexibility and agility, develop for a, in a way that if you see that something is going to derail in ways that you couldn't anticipate beforehand, there's always, well, an emergency button or a way back, or maybe a little bit more elegant way to deviate from that direction.
20:11 And there's some balance. Yeah. Or I'm new You, you want to give your power away. On the other hand, you want to make sure that it's not taken over by people with different agendas that are not aligned to the purpose of our program.
20:28 It's funny. Yeah. When I first started Sway, I, I thought that we would be the platform to empower all of the ICO projects to get the feedback from the users that, or from the token holders on the direction that those projects should go in.
20:49 And we interviewed like 30 different leaders. I won't name any names right now, I don't wanna, you know embarrass people.
20:57 But the, the vast majority of them had no real meaningful plans to include the token holders in strategic decisions of the organization, partly because they worried about the potential deviations that the missions or the, the trajectory of the organization will go through if they were in the hands of people without all the context or all the necessary information.
21:25 So, I, I share this as a context for kind of questions. What are the biggest dangers for you that you see with, with decentralization or progressive decentralization?
21:36 And on the flip side of that are there any good examples or roadmaps of organizations that have done it really well that maybe Singularity net would like to emulate or you would like to emulate aspects of in your direction?
21:53 Cool. I find it hard to fi to, to give immediately a very good example also, because I don't consider myself the expert on that actually.
22:08 Our supervisory co council has together has created an a research paper on that where they also have looked at a large number of organizations that might be worthwhile to check out for anybody interested in the, in the topic you can find at VR announcement channel.
22:28 It's very recent document, like last week or so, it was published through community but other risks. So there's the risk.
22:38 So there, the, I think the basic thing is not going into a dead end streets where you get more and more extreme in in what some, in, in whatever way.
22:48 And you can't get out of it. I think every system, whether it's a political system or a Dow or an organization or whatever, needs some air and needs the ability to evolve and to change over time.
23:03 That's, that's the, that's how we evolved as, as, as, as human beings and as life on this planet, right? We need to be able to continue to change.
23:13 And that will also be the case for Dow. So there's tooling, there's also culture. I think some cultures in Dows are very conver conservative and actually resist change.
23:30 And while that might be good to a certain extent, I think if that is moving too far and that everybody who is proposing something new is being called a Luddite or whatever, then yeah, you might question yourself.
23:48 Is that, is that a place that you really want to go to? I think we need flexibility and, and, and option to change.
23:55 If I talk about these dead end streets, I think there are a number of ways that you can, that I see right now that you might enter there.
24:03 So one would be by smart contracts, you could create a smart contract that would require 50% of people to vote before something, an important decision is, is being made.
24:19 But then as if over time you don't have that 50% of wallets anymore, you will never be able to change something at that thing.
24:27 That's a very stupid example. But I'm sure there can be very more sophisticated examples where things can go wrong when they're written in a, in a smart contract with consequences that we're not thought through at the moment it was created.
24:44 Another way would be having a lot of layers in the organization. What I see happening in the space is that people create, for instance, guilds or whatever with the best intentions.
24:58 And we might also do that at some point. But right now I am in, in defunding, resisting the creation of all kinds of layers and, and, and smaller systems with people that make decisions on cer certain areas because it's relatively easy to create them, but it's very hard to get rid of them again, if you think that is necessary.
25:27 And the risk that you're taking is that you put people on positions and you give people perks and grants and preferences and they don't want to get get rid of that anymore.
25:40 So they want to keep that position, and then these people will be the ones that are resistant to change. And also there's the risk of an organization getting more and more complex with more and more levels, and yeah, then the problem that you started out solving is actually deteriorating.
26:04 That's fascinating. Almost counterintuitive because one of the phenomenons we see in Dow, and we're working across a number of them now, is a common pattern of fairly low engagement relative to the size of the communities.
26:23 So a project of, I don't know, a hundred thousand token holders may only receive one to 3% deep engagement in decision making.
26:37 So a few hundred or a few thousand of those people will be involved in proposal generation commenting, collaboration, voting, and the majority are sort of still sitting on the sidelines.
26:50 And so, and as an antidote to, to this, I think some people have come up with these complex fluid, but sort of less fluid structures of guilds and hierarchy and representation and this sort of stuff to streamline the intention to de decentralize and the intention for everyone to have a voice and whatnot.
27:16 What is your opinion? Like, why do one, do you see similar patterns in the Dows or other things that you're involved in?
27:23 And why are people so disengaged when this is the thing that apparently we've been so, you know, wanting all these years, is to have a voice and be involved and all this stuff?
27:36 Whoa, Suan, there's a lots to impact in that question of yours, and you're ticking some boxes that I'm quite passionate about.
27:46 Hmm. Let me start by the, the last concrete question. Why are people not passionate? Well, you can't expect 30,000 people or the wallets at Singularity net to be passionate about every decision that we're making.
28:03 People have tokens for all kinds of reasons because they believe in the platform or whatever. A lot of people would be, well, first of all, these people, they have jobs, right?
28:15 And they, a lot of them have families and they have other things to do, and things that are probably more fun even than reviewing proposals and defunding , especially if they're long and technical.
28:32 So I don't think you should expect the whole community or even 70% of the community to be debt engaged. Maybe, maybe if you have a real make or break decision on the company.
28:48 Like, in a sense, our phase two proposal was you can get serious engagement. Hmm. But I think for most things, and especially the daily things yeah, people just don't have the time.
29:03 And, and also people that are token holders and community members from Singularity Net may also be community members from card or from 10 other projects or a hundred other projects.
29:16 If they should be engaged in all that decision making, They need 103 hours in each day just to cover all of that stuff.
29:26 So it's not possible. It's not possible. So I think that you shouldn't only be looking at the numbers of people that are engaged.
29:41 I think the most important thing is that the people that are engaged are a good reflection of the rest of the community, and that the people that are engaged are engaged for the right reasons, because they care and because they have the experience and the knowledge to be engaged.
30:01 If you have a relatively small group of caring people with sufficient knowledge and experience that reflects the bigger ideas of the community, then you have a great ecosystem.
30:16 And then the question is, and, and that is why I'm against these layers. I'm not against these layers at SU as such, but what I try to avoid is layers that are fixed and static, and that will become stale over time.
30:32 So if you have a community of 30,000 or 300,000 people, and at some point, let's say thousand people are moderately engaged, and there would be 50 to hundred people that are really engaged and really doing stuff, I think that is a great situation to be only, and, and maybe there are probably 50, there are five or 10 people that you will see everywhere that know everything and, and, and that are really your top contributors.
31:10 Now, the only danger is there that these five or 10 people, and perhaps to a lesser extent, these 50 people become so well known to the community and such well known faces and voices that nobody will be looking at other ones anymore.
31:27 So even if you would have a system like Liquid Democracy where you can give your vote to somebody else, or can you give your vote on certain topics to somebody else, because I think you are the best person to do that.
31:41 There are still the risk that over time people will just be handing over their vote out of convenience. And not because they're critical and not because they're thinking, but because they don't have any time to do it differently.
31:57 And because these people are out there, and then you get the kind of plutocracy where in the end there are five of 10 people that are ruling everything instead of 300,000.
32:10 So that is, that is something to take into account when you are creating a grow a Dow and when you're moving towards progressive decentralization.
32:25 So I have a solution for that as well. Okay. Okay. Let's hear, Cuz I had more questions to be like, Well, what, what the hell do we do?
32:32 Yeah. And this, let me before you jump to the, to the question, This is a, they're very similar parallels to what I'm saying here in the Dow space to what we see happening in our democratic institutions where the legitimacy of those elections, or the legitimacy of those processes is severely questioned when the turnout or, or engagement is so low.
32:57 They wonder, you know, when 70% of the people didn't vote, or 80% of the people didn't participate, What representation do those people have relative to everybody else?
33:08 So what are some solutions? I think some people have been talking about reputation systems being a very effective and, and useful feature to facilitate liquid democracy, to show how people have re, you know, performed over time.
33:29 And, and in some ways sort of account for this legitimacy question, but what are some solutions you have in mind?
33:36 Well, I think it's actually easier to use in the digital space then in the real world space, exactly because of what you're mentioning reputation.
33:48 I think in the real world one of the issues that we're facing today is that a very small minority can have a very loud voice, and they are not representing the whole community, but it looks like that.
34:01 And they can also have a lot of impact by doing all kinds of, of, of, of, of, of awkward stuff.
34:10 Now in the digital realm it will be easier to grade people based on their behavior and not just on what they're saying, but also on what they're doing.
34:28 Also that can go wrong. I think many of us know that Black Mirror episode noses dive where you give thumbs up and thumbs down, and all society is being ruled by that.
34:40 Obviously that is not where we want to end up. But maybe if I, if I use deep funding as an example and, and here is where Progressive comes into account, I think it's relatively easy to sketch a system how it should work in a couple of years from now.
35:04 It's much more difficult to create the trajectory to get step by step. But let's start at describing where we want to end.
35:13 The way that I see it right now, Okay, and I'm learning, right? Maybe two weeks from now I will have adjusted these fews and yes, it's such a, Let's not hold you accountable to achieving every one of these attributes that you say, But no, it would be helpful to have a kind of pragmatic picture of what does the, you know, the decentralized version of, of this look like in a couple years time.
35:41 So what I hope is that we will get more and more engagement of our community members, and these community members will engage in different ways.
35:51 They will engage by well creating proposals obviously, but also commenting on proposals and maybe also marking which of these comments they found most helpful or, or whatever.
36:07 And that way you get an ecosystem of contributions in which you can see which people are generally likes and, and, and, and where.
36:20 And, and that generally give contributions that help and that are constructive and help the ecosystem grow. And they can be critical and they can be positive but with sufficient engagement and input.
36:37 Also, giving ratings, for instance, on sway would be one more behavior thing that, that is something you can use. Another thing we could use is the behavior on our voting portal.
36:51 So have, are people voting for the first time, or have they voted on 10 different rounds already? We use a system of great voting, meaning you can vote from one to 10, and I can have a different grade for people that give nine proposals and one, and that give one a 10 as opposed to somebody who gives a three, a seven and eight a nine, maybe a 10, maybe a one, but everything in between as well.
37:19 Hmm. I think with sufficient engagement, you will see that certain people float to the surface over time because they are not, don't have a one-off comment, which is much like, but they consistently and continuously provide good content.
37:44 Now what the, what the, what the important thing of such a reputation system would be is that you can use different variables and attributes for different purposes.
37:56 So if I want to so, so one thing you could do is you could influence the weight of a vote.
38:04 Now with sway, you have web three login these days, which I'm very happy about. So this means that we can connect voting behavior on a voting portal, which is currently outside of sway with the behavior in sway.
38:20 And that's a very important thing because we can, that way we can decide that we can give somebody who's really constructive on the portal a higher voting rate.
38:31 Hmm. And it would make it much harder for any new participant to buy up a whole lot of tokens to vote for his own project and then leave again and sell the tokens again because he would have no history in sway of constructive behavior and the kind of weight that we need to put, if that would be if the best the, the, the person with the highest rating in the portal would have a vote that is twice as high or 10 times as high, or maybe even a hundred times as high.
39:05 I don't know. That is something that we, we need to find out. But for the voting behavior you would probably look at a longer time.
39:14 So has somebody been constructive on the portal for three rounds or five rounds, or eight rounds? And similarly, you would look at his voting behavior.
39:25 Has he voted? Is this the first time he voted or is he voting on every round? Hmm. And is there some logic to his vote?
39:33 Doesn't he only give nines? And, and, and, and ones then again another way to fuel this system of reputation and to motivate and incentivize people to actually become engaged and to give all that comments, because that's hard work, right?
39:51 You have to spend a lot of time doing that. So I think it would be fair to give these people some kind of reward.
39:59 Hmm. So you can give them reward for voting, but yeah, that, that's easy. Everybody can vote and we'll take just a minute, and that's not a good measure.
40:08 But what I could do, I could look at what has this person contributed, not over the last 10 years, but in this round, over the last two or three months, what were this person's contribution?
40:23 And then reward him for that. And that way also, new people can service and new people, I say incentivize to, to start becoming engaged.
40:33 And that is a mechanism that might give that air into your system where there will always be, like in the music industry, there will always be new voices and new people and new engaged people.
40:48 Even long after I'm with pension and doing something else, working in my garden, there will still be a lively community out there.
41:01 So you see weighted voting as a potential antidote to this kind of whale behavior, the hoarding of tokens and exerting power over governance decisions you know there, Yeah.
41:17 I think the, an important ingredient here that I didn't mention is that if we do it this way, we don't have to do kyc know your customers.
41:24 So we don't need to know who you are. We only judge you on what you do on the platform and on the token portal, and we identify you by a wallet address.
41:37 That's everything that we need to do. No. What is your wallet address? What do you do on the portal? What do you do on the voting portal?
41:46 And based on that behavior, we can give you some ranking. And if there is, imagine one person that has been active on our community for three years and has been involved in 12 rounds or something and has continuously given proper feedback, maybe sometimes more than others, but there's continued con continuity and who has been voting in every round.
42:15 Nobody can fake that. At least it will be very hard to fake that maybe at some point. But then we'll put some AI in the, in the, in the fight to, to fight that out again.
42:30 And it will be very hard for a new person to get the same count same amount of, of, of rating, which is proper, I think.
42:39 So a whale just coming in, buying up a lot of tokens and, and yeah, wouldn't necessarily have a lot of weight, but we will still have some weight.
42:50 And I think that is right as well, if you're not engaged on our portal, but you do have a lot of tokens, then it's proper that you still have some say.
42:59 Sure. Of course, you won't have enough influence to pivot the whole thing towards your own purposes. Yeah. I see. I mean, that is one of the biggest lockers of this, this vision and, and the intentions behind decentralization is you have the financialization of tokens you know, happening where people hoard several thousand.
43:27 They, they have excessive rights over governance. And you know, we're back to the same old you, you know, system that we we're trying to upgrade and graduate out of where lobbyists and special interests have excessive power over the average person because of who they're able to influence.
43:45 Right. Anyways the, the bigger question I have of, for me, I'm new into the space. We're all sort of relatively new into the space, even though I've been kind of on the sideline since 2016, we didn't really dive in with the same passion and intention that we currently have in those days.
44:07 And I think user experience and that sort of stuff is, is still lacking extremely in a lot of the experiences of engaging with different organizations and dows and other stuff.
44:22 The, the question I have is, there's a moment at which people are missionaries of these missions, these organizations and, and what they're trying to do.
44:32 And over time, for whatever reason, they become like mercenaries. A lot of people do disengage. I I wonder whether you see similar patterns and what you attribute to the, that sort of transition from being a missionary to a mercenary and leaving these doubts.
44:52 Well, how would you describe a mercenary in this context? Well, someone that has no more specific allegiance. They're no longer a net promoter of that dow.
45:04 They're not bringing in new, new members into that dow. They may hold the token, but maybe, maybe even they don't, they, they've sort of left altogether.
45:15 Yeah. Yeah. So why do people drop off or become disengaged? Yes. Is really the Yeah, yeah, yeah. Well, first of all, people have high expectations.
45:35 They expect big changes to happen overnight. Also in the space, continuously, very big promises are made and not always kept more often not than they are kept.
45:51 And let's be honest a lot of them try the main purposes to get rich quickly. So if you don't get rich quickly and you don't see a lot of things happening on the surface, yeah.
46:06 That might be a reason to become disengaged. Yeah. And you're cutting out a little bit. Do you Do you hear me now or, Okay, now, now you're back and you said a lot of them are trying to get rich quickly.
46:23 So let's go back to, Yeah. The only thing, the only reason I can think of I'm cutting out is that I get some notifications on my mobile.
46:32 Mm. So they are probably in the way. So let me know if that that happens again. Okay. Yeah, so there are very high expectations.
46:43 I I would also guess that a lot of our ecosystem doesn't have the gray hairs that I have here. Which means that I think at my age, you're a little bit accustomed and you know, from experience that things can be hard and take a little bit more time, but it doesn't mean that they don't happen.
47:03 So that can be a reason that things are just not moving fast enough. And then if there's an ecosystem with what is the number, 60,000 different tokens out there, that's very easy just to hop to the next project that does promise to change the world in health a year.
47:25 So there's all so, so, especially, especially for people that are that are not so much into the technology and the vision of the project.
47:40 Yeah, I think there's ample opportunity to, to switch from project, to project, to project to whatever has the, the latest test.
47:49 Now, people who are engaged and, and who do believe in the project, if they become disengaged and switch, that's a different matter, and that's something that we should try to avoid.
48:04 And one of the reasons can be that they're not heard enough. They don't feel heard enough. One of the reasons can be that even though there is a system where people can vote and, and let their voice heard, et cetera, that at some point there are entities that have a better way to understand the system and know how to gain a system, and therefore are basically powering out the authentic voices.
48:39 That's also a danger. I mean, just on that point again of the, I think you, you, yeah, you put your finger on the pulse of, of why the primary reason why people may leave is not feeling heard.
48:57 Do you feel like the existing tools that are in the, the ecosystem give people the sufficient ability to be heard?
49:06 For example, do you feel like this, you know, standard dow trifecta of a discord group and then a discourse channel and then maybe a snapshot environment is the right formulation to be heard?
49:21 Or, or is there a better experience for people to have on there? I'm not like plugging ourselves, I'm just really, like, I , I don't really like the, the amount of excess, you know, noise and stuff that people need to go through in order to do very basic things.
49:39 I, I was just thinking you were directing me in a certain steering me in a certain direction here. That's no yeah, I mean, well, well, there are different, different angles through that.
49:55 So, so one thing that I didn't mention just now is that even if you have a vote, and even if people feel hurt when making the vote, if they don't see the impact of that, that's another reason to vote to drop off.
50:09 So if you are putting something out for a vote, and you are asking people's opinions, and this happens every day in every organization, I've been there, that we, that the management thinks let's ask our people and they put out five questions, and then a couple of weeks later, the results are being known.
50:28 And then nothing, everything stays the same. And that is the biggest disclaimer that you can have. You can do that once, You can talk, do that twice, But after the third time, people will be disengaged.
50:40 They don't want to participate anymore. They don't see see the point, and I don't blame them. Hmm. So if you are putting things out for a vote, if you want to engage the community, it's not just about the moment of voting, it's also about following, following up and continuously updating them on what you're doing with that decision and how you're trying to, to make that real.
51:07 I think that's a really important thing. And yeah, the other part of it is just voting. Yeah. How much of an impact does that give you?
51:20 Yeah, not much. It's, it's not just about voting. And actually now I do get on, on where sway excels and not on purpose, but truly Heartfully meant is that the sense is about putting a vote.
51:37 It's also about discussion. It's also about getting hurt. It's about sharing ideas and seeing that these ideas are being picked up and voting is just not enough.
51:49 It's, it's this continuous conversation and trying to use the wisdom of the crowd that way. And I do that with deep funding right now.
51:58 And even though sometimes the, the group of people that is discussing with me on our weekly calls, everybody invited by the way is sometimes rather small.
52:11 I always get important input. I al there's, there are always a few things that even though I've been thinking about it for weeks, somebody will come up with, with a different idea and a different notion, and I think once and, and that, that is happening in, in online Zoom tool or whatever.
52:27 But you can do that in sway and you can do that elsewhere as well. I think the moment that people see that things can actually change due to this conversation for the better, that is the best way to, to build engagement.
52:43 The aside here is that it's not a given. That if everybody, anybody has certain idea, then that will be effectuated and, Yeah.
52:56 Yeah. So let me maybe share a little bit of context, and I'll say this as well. After I finish talking.
53:03 I'd love to invite anyone else who has a question or comment or anything from this group to also raise them.
53:09 So feel free to use the, the emojis in the, in the, in the, you know, room to raise your hand.
53:16 If you want to speak, you have something to say. But one of the principle design philosophies we have at sway is really to root out confirmation bias either from the top or from the bottom.
53:31 And the way you do that is by encouraging constructive disagreement, constructive meaning you know, direct straightforward, but opposing views around the same sort of things that are based in fact, based in a lived experience based in something.
53:48 And when you're able to surface these, and there's evidence of there being a double sided debate, what ends up happening is the process has integrity.
54:00 Normally, most processes don't have integrity. They are a coercive attempt to shoehorn an idea from the top down through the bottom, or even from the bottom to the top, through a minority kind of concoction of, of strong voices.
54:16 And what we found, like in, when we studied a lot of citizen assembly experiments across the world, and the most democratic of those brought together people with extremely opposing views on electoral reform.
54:33 And what they found over a period of six months is they, they did some surveys of the perception of those people towards the other group at the very beginning of the exercise, Do you trust them?
54:45 Do you think they're intelligent? Do you think they have the knowledge and capacity to make good decisions? You know, et cetera, et cetera.
54:52 And then they went through this process where there was a, you know, a lot of constructive disagreement, and there was a lot of transparency about how decisions came about.
55:01 And they interviewed people at the end of the process where one decision was taken against the interest of another group.
55:09 And not only were the people's scores significantly, like one to two orders of magnitude higher of how they felt towards the other group, they felt even the ones that lost their power in the final decision felt that because the decision had integrity, they were willing to uphold it.
55:27 I think these, these are very, very important fundamental things inside decentralized environment. Environment. People not only feel like they need to have a voice, but they need to feel like the process had sufficient transparency and integrity in order for them to commit to, you know, something they disagree with.
55:48 And I don't really see that sort of happening so much yet in, in the Dow space. And hopefully, you know, we, we can continue working and, and making making a dent on this, That is an extremely important mission.
56:04 And it illustrates everything that is wrong with the world today. Exaggerating a little bit, but not too much. People don't listen to each other anymore, and people are not engaged with each other, but against each other.
56:18 And it's so easy to get polarized and seems like this technology we have actually pushes us in, in polarized things.
56:27 If there's one thing I could, I, I I would like to change to current society, it's exactly this enabling people to listen to each other's arguments for real.
56:40 And not just like, how can I create a counter argument to this? Or why, why is he lying or whatever.
56:46 But really listening to each other. If we can accomplish that sohan that would be a great and, and, and valuable thing.
56:55 So, so I wrote down these three words while we're talking. I think these are very important in, in our communications.
57:04 The one that you mentioned was integrity. I think. The second one is authenticity. So you have to mean what you say.
57:13 And, and if you say that you want to engage in a discussion, that should mean I want everybody to agree with me.
57:19 In the end, it should mean I'm open for new ideas and new maybe I won't like all of them, and we'll go to proof of all of them, but I'm open to them.
57:30 And the third one would be transparency. And that is what I'm always trying to do. So I don't agree with everybody all the time.
57:41 I'm not always taking over or proposals that are being made or suggestions, but at try always to be transparent in the reasoning behind it.
57:53 And I hope that will give people a sense of authenticity and integrity. We, we've seen that of you so far.
58:04 And I hope your community sees it as well. I don't have any more questions. I thought this was a really, really great conversation.
58:11 I really thank you for your time. Yeah, I loved ev every moment of it sh shot. So thanks a lot for that.
58:20 And yeah, I think we can continue for an hour or so if we want this. It's a topic that will continue to evolve and we will continue to be able to have good and valuable discussions on that.
58:35 Let's, Let's promise this at the end of the next deep funding experiment. Let's do another one of these Twitter spaces and see what we learned and what the you know, the, whether we're closer to this vision that you have of, of two years decentralization.
58:52 Let's do that. Yeah. Okay. Let's Do that. Thanks guys for your time. Thanks for everyone for listening as well. And thanks Miya for, for everything you did to host it.
59:01 Thank you very much. Su thank you very much. Thanks for everyone who joined and for your efforts in our continuous mission for decentralization more.
59:12 And yeah, we'll be, make, we'll be making sure to host more of these as it as it seems to bring some traction and some transparency, at least some extra transparency.
59:23 Absolutely. Cheers. Have a great day, everybody, wherever you are in the world, lots of love Me eye. Thanks everybody for listening in.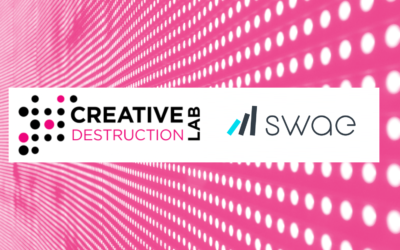 Swae accelerates into web3 with CDL One of the most respected accelerator programs in the world of technology entrepreneurship29 Nov 2022 1 min ReadWe are excited to announce that earlier this month, Swae was accepted into the Creative Destruction Lab (CDL) in its...