Iran 2.0: Exploring AI, Policy and Democracy
When:
Wednesday, 18 August, 17:00 – 18:00PM BST (London, UK)
Where:
Online Webinar
here
Bringing together the worlds of historical insight into Iran and its role in the global community, geoeconomics in the MENA region, as well as artificial intelligence in emergent democratic processes, our panelists will explore how and when we may be able to empower today and tomorrow's generations to universalise participation, transparency and decision making that impact our lives in a constructive manner. 
YOU'RE INVITED TO THIS FREE EVENT!
Soushiant Zanganehpour, Founder & CEO of Swae, has been invited to speak, and we welcome all to join as it will be streamed online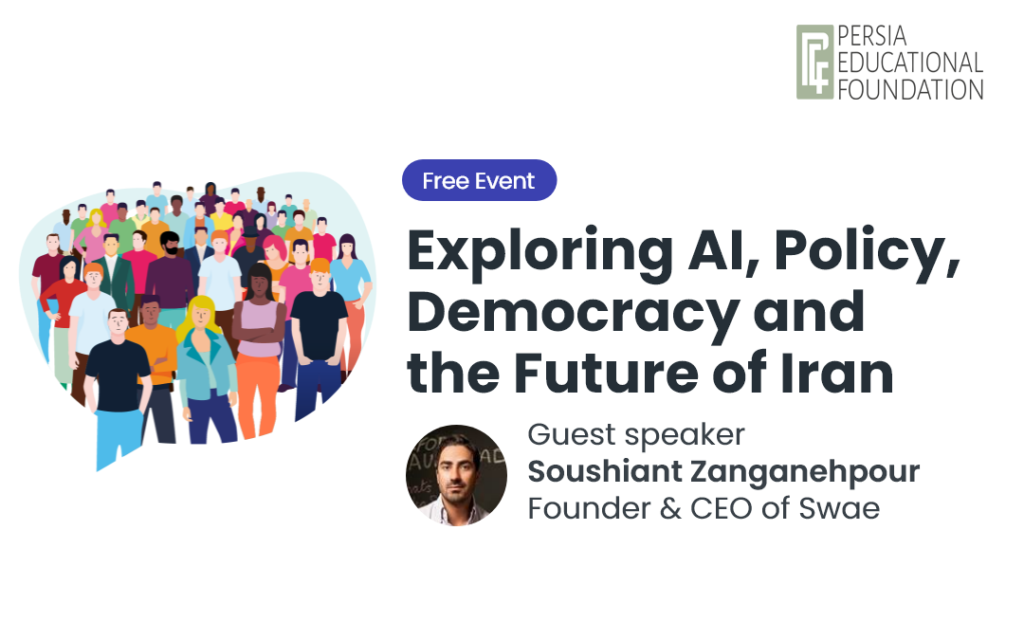 Persia Education Foundation webinar on Wednesday, 18 August, 5PM BST (London, UK), please click the link below to watch the discussion:
Guest Panelists
Ali Ansari
Twitter:  @aa51_ansari  Wikipedia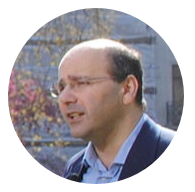 Ali Massoud Ansari the Professor in Modern History with reference to the Middle East at the University of St Andrews in Scotland. He is also the founding director of the Institute for Iranian Studies. Hi research explores the history and politics of Modern Iran, including the relationship between Iranian ideologues and Western ideas of development, especially the way in which Iranian intellectuals appropriated, adapted and engaged with narratives of the Enlightenment; the concept of 'rights'; constitutionalism; and the establishment of the rule of law. His work examines historical consciousness, and the various narratives and mythologies that have shaped contemporary Iranian identity.He is currently the FCO Fellow looking at politics of Brirish-Iranian relations in historical context.
Afshin Molavi
Twitter: @AfshinMolavi Wikipedia
An Iranian-American author, a co-director of the emerge85 Lab, a senior research fellow at the New America Foundation and Johns Hopkins University Paul H. Nitze School of Advanced International Studies, and a senior advisor at Oxford Analytica, Molavi is a widely published thinker focussing on global geo-political risk and geo-economics in the Middle East and Asia.
Soushiant Zanganehpour
Twitter:  @Soushiant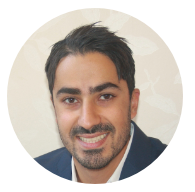 A winner of the Global Challenge Price 2017, Zanganehpour's AI start up, Swae.io, defines a new model for global governance through bottom-up and inclusive decision-making to advance democratic processes that enable the grassroots to voice their concerns and redirect the rise of abuse of power and elitism towards accessing the greater good. An outstanding advocate of informed, meritocratic processes, Zanganehpour promotes better leadership among governments, corporations and communities.

More about the Persia Educational Foundation
Established in 1997, Persia Educational Foundation is a non-governmental UK-registered charity. Its mission is to promote education and advancement of Persian-speaking communities worldwide. It provides knowledge and means to our partners and co-workers in order to encourage open and connected education leading to self-sufficiency and independence.
Persia's primary target among this population are women and girls. Persia advances that:
Only through education individuals and communities can reach their actual and true potential while protecting their rich heritage.
Women, as mothers and first educators of the next generation, offer greater potential to impact the community.
Promoting and accessing education and training is a universal right and key to achieving Agenda 2030.
Education and advancement of women and girls is the key to establishing a culture of peace and prosperity.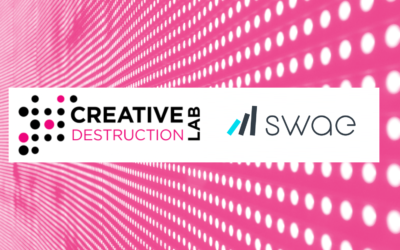 Swae accelerates into web3 with CDL One of the most respected accelerator programs in the world of technology entrepreneurship29 Nov 2022 1 min ReadWe are excited to announce that earlier this month, Swae was accepted into the Creative Destruction Lab (CDL) in its...